After the turnaround 11-5 season in 2008, Miami Dolphins followed with a 7-9 record in 2009. The changes were inevitable all season. The late 4th quarter inability to stop the opposing team from scoring. The lack of help coverage from the safety position. The lack of pressure from the edge. All these things needed to change, and with the free agency and draft, it seems the Dolphins are back on track. The lack of playmaking ability on offense and defense was troubling, as well as the failure to make solid defensive half time adjustments. The answers? New players, new coaches. Here's a breakdown of the Miami Dolphins roster heading into their camps.
Quarterback:
For the first time in a long while, the Dolphins can say they have a good problem at quarterback. With Chad Pennington going down early in the season, the Dolphins turned to second year player Chad Henne to take over. Henne played well at times making plays with his throwing power. At other times, he looked like a first year starter, which is what he was. With Pennington helping him even more and experience under his belt, Henne looks to come back with an even better year as he is slated to be the starter for the 2010 season. Behind him is the veteran Pennington, 2nd year player Pat White and the agile Tyler Thigpen. White was a second round pick last year, and was unfortunately ineffective in his limited playing time after altering his throwing motion last off-season. He suffered a concussion in the final game against the Steelers, and is now working on his throwing motion again. Thigpen stepped into the final game as well and was able to make plays with his feet and arm, but had 2 interceptions in that limited time. It is likely that with 4 quarterbacks on the roster, the Dolphins will look to trade one in hopes of getting good compensation in return. White is still being looked at for the spread package in Miami's offense, and Thigpen is a reliable backup, but it appears one of those two will be on the move at some point in the future.
Running Back:
Coming off another season in which he ended up on the injured reserve, Ronnie Brown looks to try again to make a name for himself in this league. He's proven that when he is healthy, he can be explosive through the middle with his mix of size and speed. Ricky Williams returns as well to be the backup and split the carries with Brown. Williams had a great year last season, eclipsing 1,100 yards and adding 11 touchdowns, but he's getting older and the wonder is when he will slow down. Also returning from injury is Patrick Cobbs, the small do-it-all back that played a huge part to the success of the Dolphins in 2008. The 4th halfback spot will most likely come down to Lex Hilliard and Kory Sheets. Hilliard is the big, downhill runner with good power. His competition, Sheets, is a smaller back with solid speed. It'll be interesting to watch these two battle as they bring different styles to the offense. At fullback, it's no competition. Rolly Lumbala was brought in, but that seems to be just a camp body as Lousaka Polite will man the fullback position again. He's a solid blocker and someone you want to give the ball to on 3rd or 4th down and short yardage. He's a complete fullback and should continue to play at a level which could earn him a spot in the Pro Bowl at the end of the season.
Tight Ends:
During the draft, everyone was wondering if the Dolphins would look towards a tight end that could threaten the middle of the field with a playmaking ability, but they decided to stick with what they have. What they have starts with Anthony Fasano. After a solid 2008 showing, Fasano dropped off last season and his play declined. He is a solid blocker and could be a big contributor in the pass game again, but he has to become more consistent. If he can return to his 2008 form, he will definitely help over the middle. His backup is big Joey Haynos. The 6'8″, 270 lbs. tight end out of Maryland played well in limited time this past season. He's got to work on all aspects of the game, but he could be a viable option in the red zone this season. The 3rd tight end spot is likely to come down to Kory Sperry and John Nalbone. Both of them rookies last season, Nalbone didn't play a single game this past season and was stuck on the practice squad to develop, while Sperry played sparringly and scored one touchdown on a 5 yard pass. It's uncertain how this group will perform seeing the inexperience and inconsistency, but the potential is there for them to contribute in a big way.
Wide Receiver:
It's been a long time before anyone could say this about Miami; they have a legit number 1 wide receiver. Brandon Marshall enters the fold as arguably one of the top five wide outs in the game. His playmaking ability is dangerous to opposing defenses and opens the field for the rest of his teammates. Along with Marshall, second year player Brian Hartline and veterans Davone Bess and Greg Camarillo are almost all locks to make the team. Hartline showed flashes of being a reliable number 2 in this league last season. Bess, in his third year, is becoming one of the premier slot receivers in the game. Camarillo is a reliable receiver with great hands and the ability to get open. Those three will battle it out for playing time, but seeing head coach Tony Sparano's game plan, all of them will see significant time and make contributions throughout the season. Behind them is a battle that is completely up in the air, as 6 players will fight for a roster spot. Last year's 3rd round pick Patrick Turner was supposed to be the big wide receiver and red zone threat, but failed to make any kind of impact. That forced Miami to bring in Taurus Johnson, Julius Pruitt, Marlon Moore, Roberto Wallace and Bess' former college teammate Ryan Grice-Mullen to fight for the 5th spot. With the Dolphins philosophy, the 5th receiver will need to be able to contribute on special teams as well. If Turner doesn't step up, a player with return abilities like Grice-Mullen or Johnson will threaten Turner for his job.
Offensive Line:
Once a revolving door, the Miami offensive line is now becoming more and more solidified. The bookend tackles are set with Jake Long and Vernon Carey playing the left and right side respectively. Long and Carey are big, strong veterans that only continue to improve. The backups to those two are Andrew Gardner and Lydon Murtha, both of who are continuously improving. On the inside, there are players that will be battling for starting spots as well as being depth at a position plagued with injuries. At center, Jake Grove proved to be a very good addition while he was healthy and his backup Joe Berger played well in spot duty. At right guard, Donald Thomas will battle with newly acquired Richie Incognito and his mean streak. The left side looks like a battle between Nate Garner, Cory Procter and rookie John Jerry with Garner having the early edge. The depth on the offensive line will also provide battles between Ray Feinga, Dimitri Tsoumpas and versatile Andrew Hartline. The early prediction for the starting offensive line is Long, Garner, Grove, Incognito and Carey going across with Berger, Procter and Gardner being primary backups. Jerry will most likely take a bit of a "redshirt" to reform his body, but he's a mauler with a bright future ahead of him.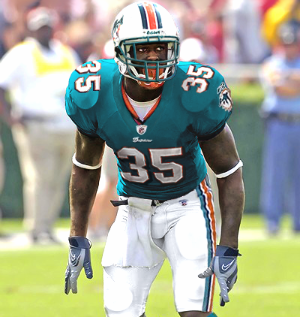 Defensive Backs:
Not since Patrick Surtain and Sam Madison have the Dolphins had a cornerback tandem with this much talent and potential. Second year players Vontae Davis and Sean Smith look to return even more improved. Davis is a big hitter with playmaking ability as he was able to grab 4 interceptions. Smith is a man-coverage type corner that needs to improve his ball skills, but for the majority of the year, he was very solid covering his man. Will Allen returns from injury and is a very talented corner still. With Smith and Davis as the projected starters, odds are Allen will play the nickel back position in which he could be effective. Behind them is Jason Allen, Evan Oglesby and rookie Nolan Carroll. Jason Allen has tremendous talent, but the light has never come on for him and many believe this could be his last chance to impress. Oglesby definitely is not a lock to make the team. Carroll is raw as a cornerback, but he fits the mold of Sparano and Bill Parcells perfectly. He's got good size and 4.3 speed. Undrafted free agent A.J. Wallace will also look to make an impression with his return skills and could push Oglesby for his roster spot. At safety, Yeremiah Bell is the only set starter right now. He is a big, quick, hard hitting safety. His backup so far in camp has been Tyrone Culver, who has done well in his limited playing time in Miami. With Gibril Wilson out, the Dolphins will turn to second year player Chris Clemons or rookie Reshad Jones to hopefully take over at free safety. Jones is a hard hitting ball hawk, but some see him more as a strong safety. Clemons is fast and agile, but not very vocal on the field. Nate Ness is a wildcard here to make the team, as is Jonathan Amaya. An interesting situation to look out for is the possible pursuit of O.J. Atogwe if the Rams release him.
Linebackers:
With the releases of Akin Ayodele, Reggie Torbor and Joey Porter, along with the departure of Jason Taylor, the Dolphins needed a complete overhaul of the linebackers. They drafted 4 in April, signed 1 and traded for 1. With Channing Crowder the only returning starter, Miami needed a playmaker at inside linebacker and they got one of the best in the game. Karlos Dansby will push Crowder over a bit and open up more possibilities. Dansby is a solid overall player and leader. His play could allow Crowder to roam a bit more and add a different element. At weakside outside linebacker, the pass rushing duties will belong to either Charlie Anderson or Cameron Wake. If Wake can show more consistent rush abilities, he could provide a big spark to the defense. Anderson plays inconsistent, but made some plays in his limited time. Strongside linebacker will come down to Quentin Moses and rookie Koa Misi. Moses never lived up to potential as a pro, something Miami hopes will change. Misi is a very versatile player that can rush the passer, stop the run and drop back in coverage. The depth at linebacker is definitely going to be interesting to watch. Returning to camp this year is Erik Walden and J.D. Folsom. They will be joined by newly acquired Tim Dobbins and rookies A.J. Edds, Chris McCoy and Austin Spitler. All three rookies are versatile and bring something different to the table. Edds is a very good cover linebacker, McCoy is a solid edge rusher and Spitler is a leader, do-it-all type with solid special teams ability.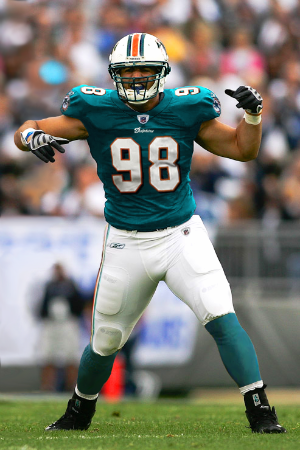 Defensive Line:
One of the strongest groups on the team, the defensive line will be anchored at nose tackle by Randy Starks. Starks had a breakout season last year, but makes the move inside where he will be utilized as an attacking nose tackle. His pass rush ability and strength gives him a unique ability in the defense. Kendall Langford, Phillip Merling and Tony McDaniel all return to the defensive end rotation. Joining them will be rookie Jared Odrick. Odrick is a high motor player with above average skills in all aspects. If the Dolphins keep 5 defensive ends, that battle will come down to Lionel Dotson and Ikaika Alama-Francis. Backing up Starks at the nose will be big Paul Soliai, Ryan Baker and veteran Jason Ferguson, who will be serving an 8 game suspension. However, the altering of the defensive scheme will allow each of these players to move along the line in the 3-4/4-3 attacking hybrid being implemented by new defensive coordinator Mike Nolan. The predicted starting defensive line right now probably looks like Langford, Starks and Odrick with Merling, McDaniel and Soliai rotating frequently.
Special Teams:
Dan Carpenter is back as the starting place kicker and after a solid season in which he made 25 of 28 field goals, he looks to improve on his leg strength and kickoffs. Punter Brandon Fields quietly had a good year putting 25 of his 75 punts inside the 20 yard line. Long snapper John Denney is also returning and he rarely makes mistakes in his duties. The question of the special teams will come down the return duties. It is expected that Davone Bess will continue returning punts, but returning kickoffs is a question mark. That could come down to Patrick Cobbs, Kory Sheets or one of the free agents like Grice-Mullen, A.J. Wallace or Taurus Johnson. One of these guys will have to step up on special teams if they want to improve their chances of making the team.
Coaching Staff:
A majority of the staff remains the same under passionate head coach Tony Sparano. Offensive coordinator Dan Henning returns, but needs to be more consistent with his play calling as he tends to stray away from what is working. Last year's defensive coordinator Paul Pasqualoni is gone and Mike Nolan is in. Nolan is bringing with him more of an attacking defense that will focus on unique blitzes and getting pressure on the quarterback. Also new to the staff is inside linebackers coach Bill Sheridan. Another friend of Bill Parcells, Sheridan did well as linebackers coach for the New York Giants and seemed to falter as their defensive coordinator. Back in his comfort level as a positional coach could prove well for him.
The changes made to the team have been significant, but will they push the Dolphins to the top of a very tough AFC East? We'll soon find out.
-Brandon Williams
*Note: Thanks to Gladsadmad at the FinHeaven.com forums for the jersey change picture of Jared Odrick, Koa Misi and Reshad Jones.
http://forums.sportsjabber.net/sjforums/showthread.php?t=54150
The following two tabs change content below.
Latest posts by Jabberhead (see all)